Through the End of This Month: 30% Off Infused Oils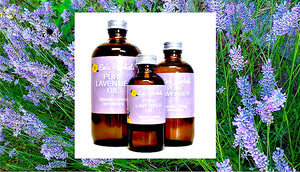 There's still time to take advantage of a nice discount on our shop-made herb-infused oils!
Infused oils are so easy to use, and such a great way to access the healing power of herbs! Pure Arnica Oil and Pure Calendula Oil are two of our favorite and most popular products, made with herbs that work best when directly applied to your skin. Lavender and Chamomile are beloved plants that are also amazing as topical applications.

We make our infused oils by combining organic flowers with organic Jojoba and Sunflower oils, steeping them for a full month or longer, then pressing, straining, and bottling. They're great as massage oils, straight from bottle or diluted; added to your bath; as carriers for essential oils; or blended into salves, soaps, or other creations.
Four fantastic flowers—you may just want to collect the whole set!
Don't miss this chance for big savings on these wonderful oils!