Smoke Gets in Your Eyes: A Season for Open Air Tea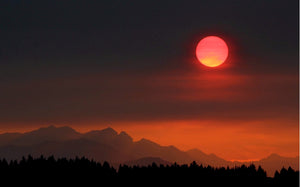 Smoke Gets in Your Eyes: A Season for Open Air Tea

Spring and summer were slow to heat up in our corner of the country this year, and we had hoped to avoid the episodes of intense wildfire smoke that made for some really strange and unpleasant days in 2017 and '18. Now the smoke is here — not as bad as parts of California and Oregon right now, but unsafe levels prevail, even many miles away from the flames. The air tastes like burnt trees, and stings the throat and eyes.

Those at greatest risk from wildfire smoke include people with heart or lung disease, or diabetes; older adults; pregnant women; and babies, children, and teenagers, whose respiratory systems are still developing. Much of the health threat related to smoke exposure has to do with the inflammatory effects of fine particles and gases on your lungs and other organs. Your immune system may also be compromised, reducing resistance to viral and other infections.

Many of us are already stuck at home, and hereabouts (in the zone of mild summer weather), few have air conditioners. While we're waiting it out, at least there's time to enjoy some herbal tea! Here's a formula designed to help you breathe easier: Em's Open Air Tea.

This tasty tea combines two outstanding herbs that are well-known for healing lung conditions, organic Coltsfoot (Tussilago farfara) Leaf and organic Mullein (Verbascum spp.) Leaf, along with organic Rosemary (Rosemarinus officinalis) Leaf, organic Licorice  (Glycyrrhiza glabra) Root, and organic Rosehips (Rosa spp.).

Every one of these herbs has powerful antioxidant and anti-inflammatory properties to combat the ravages of smoke inhalation, and each one acts in various ways to help guard your body against viruses and other microbes, and bolster your immunity. Coltsfoot, Mullein, and Licorice are all notable for their soothing demulcent and expectorant actions. Rosemary, Coltsfoot, and Mullein can also help ease that irritated cough with antispasmodic properties.
The taste profile of the tea is enhanced by the sweetness of the Licorice, the delicious, crisp herbal note of the Rosemary, and the pleasant tang of Rosehips, rich in ascorbic acid and bioflavonoids. Of course, smoke also tends to dry you out, so rehydrating with plenty of warm or chilled herbal tea is a really smart move from that standpoint as well.
We're looking for some rain up this way soon… California may not be so lucky. This wildfire season is likely to persist for quite some time in many regions, they say. Stay indoors when you can, filter your air if you're able, and take advantage of our 10% discount on Open Air Tea, through the end of this month—it just makes sense!