Our Teas are Certified Organic! Plus: Southwest Premium Harvest Herbs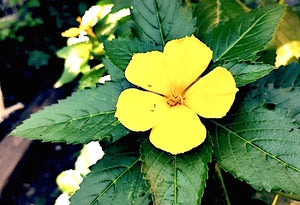 Our Teas are Certified Organic! 
After years of offering teas blended from 100% organic ingredients, we're happy to announce that our tea blends are now officially certified organic! We'll be updating the packaging for the tea blends to reflect this change in status, keep your eye out!

Southwest Premium Harvest Herbs
Long ago, I did some traveling to the inland Southwest desert region. I met a number of people there who had previously lived in the Pacific Northwest, or were visiting from there. I became aware of the relationships that exist between different geographical and climatic zones. People who live in cool, damp places sometimes surrender to longings for sunshine, and flee to warmer areas—seasonally or permanently—while others (like my wife and I) tired of warm, dry climates, and escaped to greener regions, where trees abound, and water is plentiful.
We're pleased to include sustainable and hand harvested Southwest herbal treasures among our selection of Premium Harvest herbs! Follow these links to learn more about our wild harvested Osha Root, Yerba Mansa Root, and Chaparral Leaf.
Our owner Emily, a Northwest native, found her calling, and received her training as an herbalist, while living in New Mexico. She gained a deep appreciation for some of the powerful plant allies that live in the mountains and deserts of the great Southwest. For instance,
Osha Root is a great medicine for respiratory infections, and provided Emily's initial inspiration to study herbal healing.
Yerba Mansa is an impressive antimicrobial and astringent root, and a source of berberine.
Chaparral Leaf is a strong anti-inflammatory herb, with antibacterial, anti-fungal, and anti-parasitic actions.
Also—Spring's here,
and you and the kids will be outdoors more, working and playing harder. Add some of our excellent
Comfrey Leaf Infused Oil
to your herbal medicine chest, and be prepared! This is a product that we offer seasonally, when fresh Comfrey Leaves are available.
Comfrey (
Symphytum officinale
), also known as Bruisewort and Knitbone, is an herb with a long history of use for assisting healing, particularly wounds and fractures. It's well known to herbalists as a source of allantoin, an alkaloid that actually stimulates the growth of new cells, as well as other anti-inflammatory phytochemicals including rosemarinic acid.
A 2017 study of over 700 children treated with a topical Comfrey preparation for
sports injuries and blunt traumas
, involving both open and closed skin surfaces, showed a high degree of safety, and remarkable effectiveness as assessed by doctors and study subjects.
And note the traditional association of Springtime with love...
and love with the magical herb
Turnera diffusa
, commonly called
Damiana
(plant pictured above).
An article from the Journal of Medicinal Food
states that Damiana
"is employed in traditional medicine as a stimulant, aphrodisiac, and diuretic... Pharmacological studies have established [its] hypoglycemic, antiaromatase, prosexual, estrogenic, antibacterial, and antioxidant activity." 
A tasty addition to your evening tea blend, Damiana might just be the spring tonic you're looking for!