New Year, New Growth, New Location!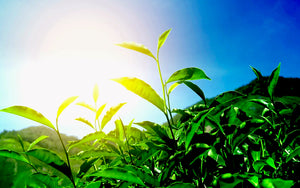 2019 was a big year for Em's Herbals, and we foresee an even more successful 2020!
We're so excited to be operating the business in our new location in Bellingham! Transitions often take longer than planned—this one certainly did. Happily, the new space gives us plenty of room to grow, and a fresh start for whatever our next phase will bring.

We're gearing up to manufacture larger quantities more efficiently, while never sacrificing our commitment to making the highest quality herbal body care products and tea blends for your good health and enjoyment!

We learned a lot last year about working with local growers, and collaborating with organic farmers who deal with a tight labor market and the need to be flexible in supplying a range of produce to a variety of buyers. We ran into challenges with the limited availability of some of the plants that are essential for our signature products; we also gained experience in processing fresh herbs on-site, and anticipate exploring that option further.
Em's is excited to be expanding in the ever-changing online marketplace and the social media world. And we're out and about at markets, fairs, and herbal events! We participated in the "Home for the Holidays" crafts fair in Ferndale, Washington, in December, 2019, and we're looking forward to several gatherings in 2020!  
You can find our booth at the Home and Garden Show in Lynden, WA, in March; the BotanicFest in Veneta, Oregon, in May; and other regional events, as the year goes on.

We're deepening our focus on private label products and custom formulations, including a new partnership with Myriad Wellness, a local innovator offering a line of organic CBD products. Health care providers, spas, and retailers will want to consider the advantages of working with a nimble, knowledgeable source for botanical body care and medicinal products. We'll share more about these developments as plans emerge.

The decade of the 2020's promises to be a turning point for the planet. We share the widely held intentions of addressing the challenges of this crucial era with sustainable solutions for the large and small needs that confront us as individuals and organizations. Look to us at Em's Herbals for clean, effective, and affordable tools to help create the plant-based, Earth-friendly future that our children and their children need and demand.
Our best wishes to all for a happy and fulfilling new year!