New for the Holidays! Gift Packs and Bundles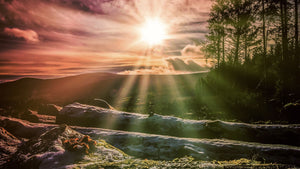 Emily has been considering the idea of gift bundles for years now, and this year, the 2021 holiday season, is the time when that concept is finally manifesting!
The Rest & Relaxation Pack is a warm invitation to the healing wisdom of "Slow down, and smell the roses!"—the simple, everyday luxuries of a flower-scented cleansing ritual, and sipping a relaxing tea. (You might just want one of these for yourself, too!)

The Tea Bundle is one you can customize for just about anyone, and highlights Emily's genius for creating herbal tea blends that support good health—in many different ways, both general and specific—and also taste great! The oldest and most basic way to get the benefits of healing and nourishing plant allies is simply to brew them in hot water.
We're bundling your choice of any three of our organic tea blends with either a 24-oz. basic glass teapot—perfect for one or two tea drinkers—or a very nice, 45-oz. ceramic pot by ForLife, plus a small jar of local honey from right down the road here in Whatcom County, Washington. Either one of these vessels is likely to come in handy for folks who are new to herbal teas, and even for many experienced tea fans. You really can't go wrong!
Winter is a time when our immune systems work extra hard to keep us healthy. The Wellness Bundle offers support for that vital process, with three immune-boosting herbal teas, three essential oils, natural hand sanitizer, and honey and oxymel.
The Christmas story is the tale of a birth, and two of our bundles are dedicated to the mothers who bear new life into the world. The Mommy to Be Pack and Mother's Bundle are perfect gifts to honor and help those in the magical first stages of that unique and challenging journey, with organic artisanal body care products, original loose-leaf herbal teas, and more.
Please note that tomorrow, November 27, is Small Business Saturday—and Em's Herbals is the real thing, a small-town family business managing to thrive among many bigger and more corporate competitors. And November 29 is Cyber Monday, a celebration of the online retail experience. Consider what kind of enterprise you're choosing to support with your holiday spending!

From all of our team at Em's Herbals, with all sincerity—May the blessings of the holiday season be abundant for you and yours!