Talys Lip Balms: Super Last-minute Stocking Stuffer!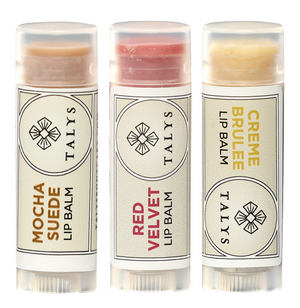 Delightful Talys Lip Balms:
Super Last-minute Stocking Stuffer!
It's not quite too late to order one or more of our excellent Talys lip balms—the perfect stocking stuffer gift!
One size fits all... three great flavors... these organic lip balms help heal and moisturize dry, cracking lips, as the heated indoor environments of the colder seasons take their toll.
Red Velvet: with a bit of Rose scent, and a hint of natural red color.
Mocha Suede: a touch of Cocoa powder, and a nice neutral shade of tan.
Creme Brulee: our newest option, with a lovely Vanilla note.
All available as single units, or in packages of three or six.
Pamper your friends and loved ones with these and other selections from our line of fine body care products!
And don't wait too long—the post office is busy these days!