Blue Cornflowers are here!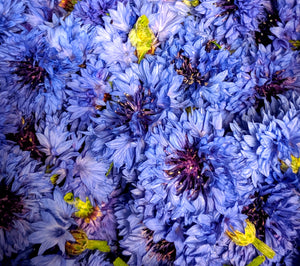 We are now receiving deliveries of fresh, certified organic Blue Cornflowers from nearby Skagit County, right down the road from our location in Bellingham, Washington! Certified organic Cornflowers are scarce (previously we were importing the flowers from Albania), and we're so happy to connect with a local grower, and to dry fresh herbs in our own shop.


The Cornflower, native to the Near East, where it grows as a weed in grain fields, is remarkable for its beautiful blue color. Its vivid hue makes it popular as an ornamental flower, and an addition to salads, dye formulas, and tea blends.
Brightly colored flowers and fruits are often rich in healing phytochemicals such as flavonoids and anthocycanins! French herbalists use a strained infusion of Cornflower, Eau de Casselunettes, as an eyewash for weak or inflamed eyes.
Tea made from the petals has been given as a laxative and bitter tonic to improve digestion, to enhance resistance to infection, to support the liver and gall bladder, to treat menstrual disorders and vaginal yeast infections, and as a diuretic in urinary tract diseases. A recent study suggests a potential role for aqueous Cornflower extracts as anti-hemolytic and anti-hypertensive agents.
Look for the upcoming return of Blue Cornflowers to our inventory of bulk herbs!